Tod Becraft was a local strength legend. At at body weight of 224lbs, he Bench Pressed 551lbs! This lift was performed in the 1980's, prior to many of the modern lifting enhancements we see in powerlifting today. Not only was Tod a very strong man, he was also very generous. He hosted many contests in the Pacific Northwest, to encourage strength and health. For 20 years Tod ran the Rolling Thunder Charity Event, benefiting local athletes, and our local community. Tod maintained the Northwest Rolling Thunder Records which are as follows.
In April of 2000 Tod began documenting a list of Official Northwest Gripper Closes. Tod was proud that the grippers used for his official list had been closed by 2005 Worlds Strongest Man Runner-Up Jesse Marunde.
The following Tod's official list of people who closed the Jesse Marunde Grippers.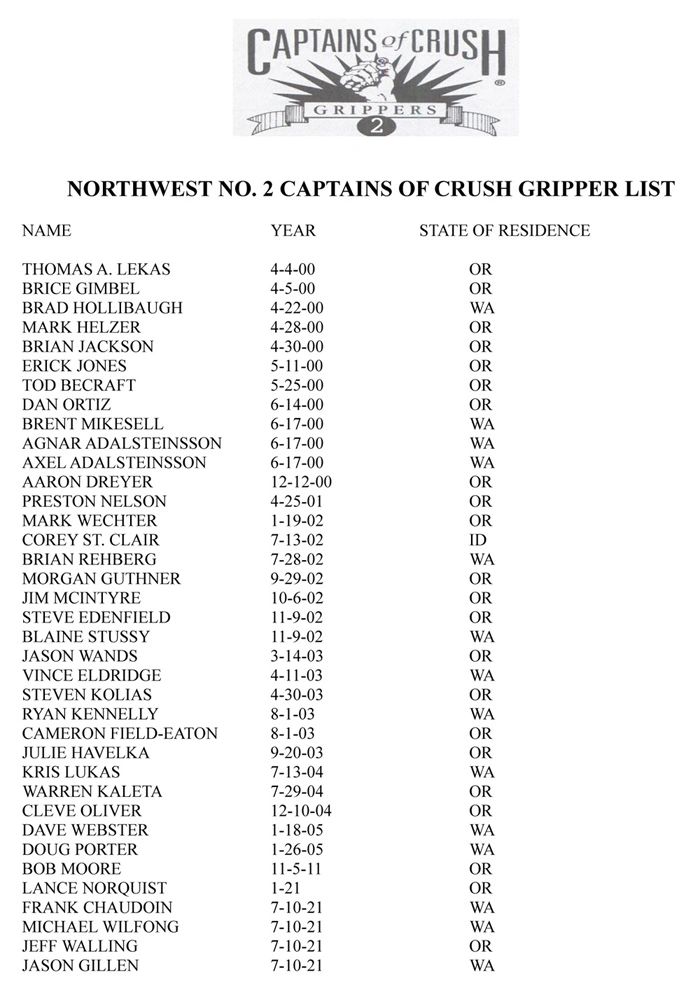 In addition to the two Jesse Marunde Grippers, Tod witnessed one PNW close of the Captains of Crush 3.5 Gripper. The following is the sole person in the PNW who closed a Captains of Crush 3.5 Gripper with Tod as a judge.
At the 20th Anniversary of the Rolling Thunder Charity Event, Tod gifted us a new set of Captains of Crush 2 and 3 grippers. He closed the 2 in front of us, and nearly closed the 3. We are proud to continue this tradition with Tod's personal Captains of Crush Grippers.
The following is a list of people who honored Tod Becraft with a close of his personal Captains of Crush (COC2 & COC3).
(This list will also include any PNW closes of a 2006 or newer COC 2.5, 3.5, or 4).
Closes of Tod's #3 Captains of Crush
Michael Wilfong – 12/4/21 – WA
Closes of Tod's #2 Captains of Crush
Tod Becraft – 7/10/21 – OR
Jeff Walling – 12/3/21 – OR
Spencer Hise – 12/3/21 – OR
John Walch – 12/3/21 – OR
Skylen O'Brien – 12/3/21 – OR
Frank Chaudoin – 12/4/21 – WA
Alejandro Saravia – 12/4/21 – OR
Joey Stampke – 12/4/21 – OR
Sturgeon Anderson – 12/4/21 – OR
Addam Chaudoin – 12/4/21 – WA
Keygun Perez – 12/19/21 – OR